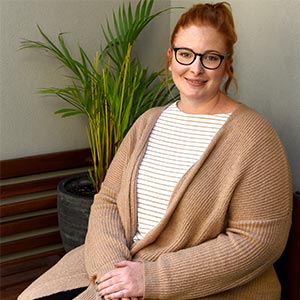 amy.cooper@bstratawa.com.au
Amy Cooper
Senior Strata Community Manager / SCA Certified (CSCM)

Amy Cooper joined B Strata in mid-2019, bringing with her 14 years of strata management experience in the fast-paced NSW sector. In addition to her experience, Amy possesses rare insight and a wealth of ideas around how we can work to improve our strata industry to more quickly close the gap between WA and the more established strata industries over East.

Amy's easy-going, friendly personality and sharp sense of humour are underpinned by years of expertise and well-placed confidence in her strata knowledge. In her short time with us, Amy has proven to be a well-liked and invaluable addition to our team. In her many years in the industry Amy has handled almost any situation you can imagine in strata, from major building defects to persistent neighbour disputes, and tackles each one with an organised and calm approach and a can-do attitude. This has resonated with our clients and is indicated by the flood of positive reviews that Amy has generated in her short time with B Strata.

Amy's exposure to all facets of administration, accounts payable, debt recovery & insurance enable her to be an all-round strata expert capable of providing in-depth support and guidance, particularly to our Council of Owner members in their running of the scheme. She excels at relationship management with our clients, contractors and other stakeholders and has already cemented her place as an asset to the B Strata's team.