CHU has relaunched their Landlords Product
June 19, 2020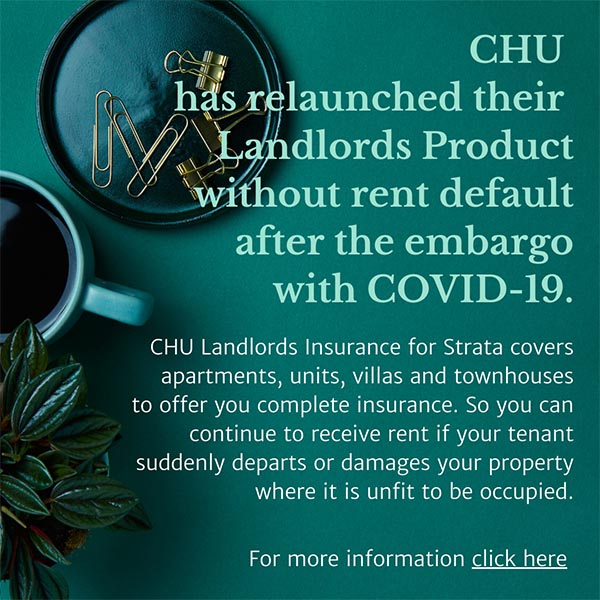 CHU has relaunched their Landlords Product without rent default after the embargo with COVID-19.

CHU Landlords Insurance for Strata covers apartments, units, villas and townhouses to offer you complete insurance. So you can continue to receive rent if your tenant suddenly departs or damages your property where it is unfit to be occupied.

****Important changes to CHU Landlords Insurance for Strata: Rent Default is unavailable for new customers from 14 May 2020. This does not apply to renewals or amendments of existing policies that were in place prior to 14 May 2020. Please refer to the SPDS dated 14 May 2020 *****

If you live in an apartment, unit, villa or townhouse it is important that you have Landlords Insurance as Residential Strata Insurance only protects the building, not your personal property or possessions.


Policy Section 3. Loss of Rentable value
Policy Section 4. Loss of Rent (departure of tenant)
Loss of rentable value if property is unfit to be occupied, (52 weeks)
Loss of rent if your tenant departs, (6 weeks)



Some important things to remember:


Existing Landlords renewals will continue to go out to customers with rent default.


All new business can only be issued without rent default and a SPDS will attach to the paperwork received by the insured. In terms of Policy Section 5 being removed, this will be shown on the schedule as per the below.

Policy 5 - Loss of rent (default by tenant)
Cover not available


If an Intermediary or Insured have an existing renewal book with CHU and they wish to endorse a new risk without rent default onto the existing policy number, this will not be possible. A new policy would have to be set up for this additional risk.

The Strata PDS and Strata Supplementary PDS are available on our website - https://chu.com.au/landlord/landlord-insurance/